Be it from your mom's closet or a first-pay-cheque saree that you bought from that dream boutique, every 6-yard drape has a story to tell. Those endless hours of browsing through magazines and catalogs to get that perfect blouse stitched are worth every bit. For something you spent so much time and effort on, wouldn't it be even fair to hook that old shapeless bra underneath? Your blouse definitely wouldn't appreciate that for sure. Let's give your saree blouses some real love by exploring different bra options based on the type of their necklines.
WINGED NECKLINE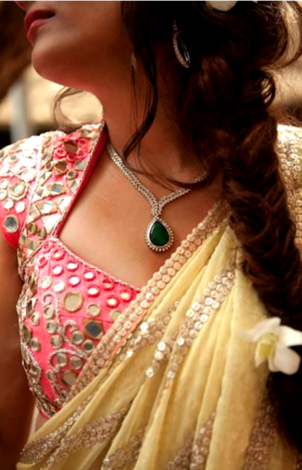 A boon to the upper swell of your busts, winged necklines highlight the curves like none other. Choose something as soft and soothing as a super-light chiffon saree to let your blouse do all the talking.
Bra option:  Pushup bras that come with contour cups go great with this curvy neckline. Providing ample room to create a dramatic cleavage, this bra doesn't disturb the filmy appeal your blouse is set to define.
DEEP "V"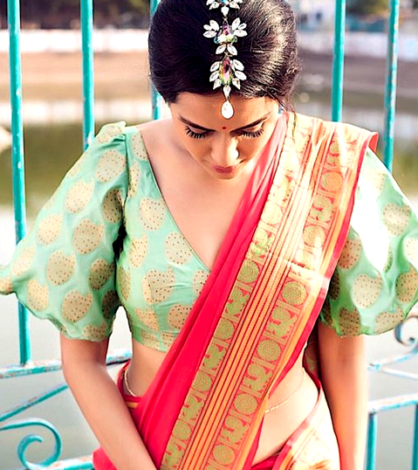 It's complete bliss to see our designers blending contemporary fashion with a tinge of antiquity. Deep V necklines are so modern yet mystique. Pick your favorite Kancheevaram and pair it with this jaw-dropping neckline blouse for some vintage spice.
Bra option:  Grab a plunge bra and you are all set to groove the arena. That sleek clasp at the front is something that should get all the appreciation for simply disappearing under your blouse.
OFF-SHOULDER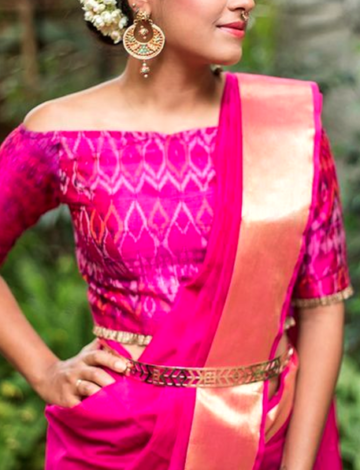 We could undoubtedly give the most-sensational-neckline award of the year to this one! Women of today are no longer stuck behind with inhibitions of donning an off-shoulder saree blouse. It's even more fascinating to see how they can be so off-beat yet flaunt some unadulterated tradition.
Bra option:  Why fear when strapless bras are here; that's what we'd want to say about slaying the off-shoulder look. Opt wired ones for more support and shape beneath this particular blouse pattern. Moreover, worry not about the adhesives hurting your skin, the right usage can hardly do that.
CLOSE NECK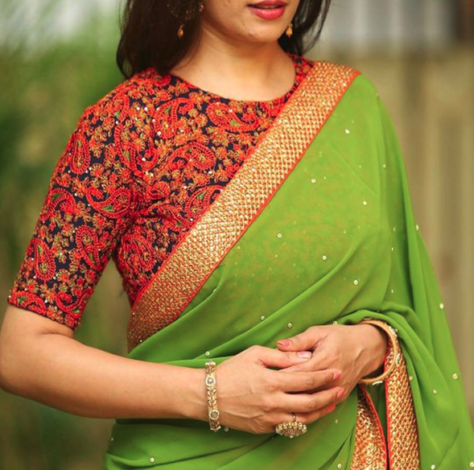 Blessed enough, huh? There's no way you can feel even a teeny-weeny dose of discomfort with the closed neckline though. So edgy and new-age, there is probably none who hasn't tried this cozy blouse pattern.
Bra option: Blindly go in for a full-coverage padded bra without thinking twice. Unlined cups can in no way offer the shape that this neckline demands. There are chances that non-padded bras might even flatten your breasts, leaving no room for that curvy bust-line.
HIGH NECK COLLARED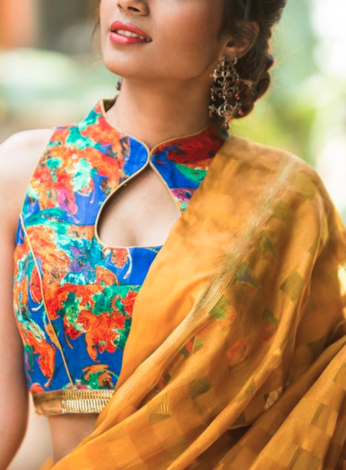 A laudable fashion statement that involves a hell lot of creativity, the high neck blouse is something that has gone crazily viral for all obvious reasons. The sheer popularity that this blouse knows no bounds. All credits to the hook fastener that easily creates the teardrop pattern to subtly highlight the whole look.
Bra option: Hook a wired bra for that barely-there cleavage that this neckline would define. The sturdy support and subtle lift that wired cups offer makes sure there is hardly any hindrance to don this high-neck-teardrop saree blouse.
HALTER NECKLINE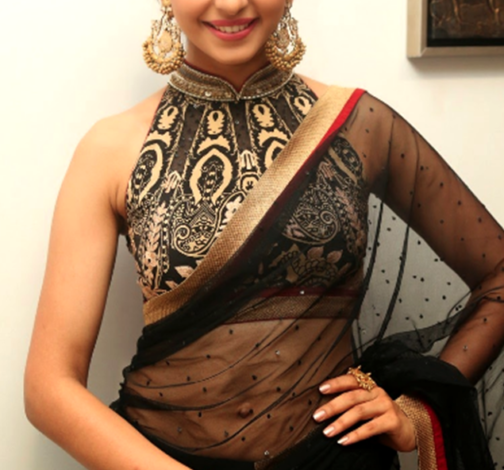 Go the celebrity way with this Bollywood-inspired blouse pattern. Halter-necks have long existed and never really went off-style. Elevating the grandeur of the blouse and keeping the drape see-through will do magic in its own sweet way.
Bra option: Ever heard of convertible bras? That's exactly what you need when you want to flawlessly flaunt a halter-neck bra. Simply criss-cross your regular bra straps and groove the retro way.
With infinite bra options available for almost every neckline, there's no way you are going to hold back from these unco blouse patterns. Let your imaginations run wild; after all, you have innumerous bras to support your dreams.