How to find correct bra size?
Apart from health reasons, your outfits may not look appealing without a proper bra. Wearing an incorrect size will mess up the whole ensemble. It will fail to enhance the beauty of the outfit.  You can find your bra size with the help of bra size calculator.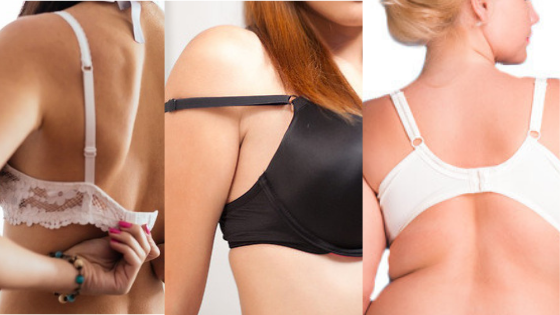 Slippery bra straps:
You know how much it is embarrassing to often find your straps slide off from your shoulders? And worst, that you may not even aware of it sometimes. It is frustrating to keep on pushing your straps up in place. This happens because you are wearing a bra with loose shoulder straps or worn out ones.  Get a bra with adjustable shoulder straps and throw away the old bras. Adjust the straps for perfect fit. Wearing it too tight has its own downside as it would cause skin bulge around your shoulder.  
Loose/tight bra band:
The bra band will tend to ride up to your shoulders and will draw the cups down in case of loose bra band.  The bra band might peek out from your back neckline and it will show off especially while wearing a saree.  If the band is tight the bra cups will be pulled to the sides. The band will be digging in your back showing the bulges through your outfit.  Hence, it is important to get a bra band size which fits you.  Here is how to calculate your bra band size with a bra size calculator?
Cup size:
If the cup size is too big it makes the breasts jiggle under your t-shirt or kurta.  The edges of the cups will be visible through your outfit. If the cups are too small your breasts will spill from the sides. The right cup size will give a nice contoured appearance.  Here is how you can calculate your cup size with a bra size calculator
Underwire Bra:
If you are choosing an underwire bra it is important to select the correct underwire size.  The bigger underwire will be poking through your t-shirt.  A small underwire will constrict your breast at the bottom. 
If you don't wear a bra with proper size and fit, it will spoil the appearance of your ensemble.  Hence, it is important to calculate your bra size. Do it with a reliable bra calculator before going to buy bras. This will save you from unnecessary embarrassments. A bra that fits you like a frame will make you walk with confidence in any kind of apparel.